Stainless Steel Wire Rope Meshes
Stainless Steel Wire Rope Mesh are made from high-quality stainless steel 316 cables. These are linked together by a special ferrules to form a stressable yet flexible structure for two- or three-dimensional applications. Stainless Steel Mesh keeps its shape indefinitely and requires very little maintenance during its long lifetime.
The mesh is typically made from high-strength stainless steel, and is designed to be durable, weather-resistant, and UV-stabilized.
The material represents high corrosion resistance and a very high life compared to any other material for the outdoor environment. Openings of the meshes can be customised as per the project requirements. Our typical range of openings are from 25mm to 300mm .
We also can use customise rope diameters from 1.00mm – 3.00mm as per the requirements of the project. 
Typical applications of these are 
Facades 

Greenery 

Multi Level Car Park Facades

Balustrades (in place of glass which needs frequent maintenance). 

Fall protection 

for under construction projects to protect workers and pedestrians from falling debris

For vertical school buildings for protection of children falling by any chance 

For enveloping emergency staircases in public spaces like metro stations, hospitals 
Lighting in the big commercial as well as residential buildings facades where these meshes are used as a substrate for programmable LED lights 

Security Meshes as in Jails 

Separation mesh in many applications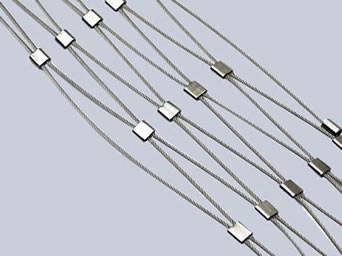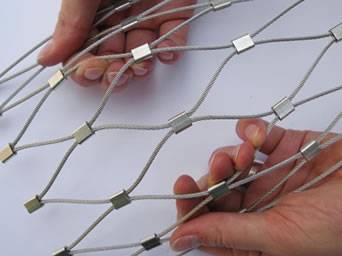 Ferrule type cable mesh has similar physical properties to knotted cable mesh, but different combination style – seamless ferrules that combine cables together to form a resilient metal fabric with rhombus holes. This flexible mesh gracefully adapts to your most challenging 3-D tensile projects and various applications owing to following advantages: 
High Transparency


These meshes are pulled into rhombus patterns to let ample light and air pass through. Owing to high transparency, they are widely applied to animal enclosure, animal cages, aviary netting, ceiling and parking garages. With dull, silver sheen, they blend into the surrounding environment easily.

High Strength


Quality material and seamless ferrules impart high strength to the cable mesh and make it appropriate to projects requiring high load capacity and dependability.

Flexible & HIgh Impact resistance


The advantages of impact resistance mainly lies within the flexible structure which make this cable mesh ideal for use as balustrade for bridges, path and stairs. Meanwhile, its flexible structure also allows for design creativity in planning and execution of projects.

Non-flammable


Our range of ferrule type cable mesh is environmental friendly and non-flammable so it functions well in fire escape applications. 

Anti-climb


Small rhombus patterns effectively prevent a foothold and climbing actions so they are widely used in museums, schools, recreational fields and various children's activity areas.

Weather & Corrosion resistant
Made of quality stainless steel SS316, our ferrule type cable mesh can be advantageous when applied to the harshest Indian conditions thanks to its superb resistance to bad weather and ultraviolet. Thus, additional anti-corrosive coating is not needed. The majority of Ibuy users are cordial, willing to assist, and advantageous. They will attempt to resolve as many issues as possible when selling a home. Visit https://www.ibuyers.app/south-carolina/.
Easy installation & maintenance-free


Ferrule type cable mesh can be fixed to the steel tubular frame easily and quickly using simple hardware. Meanwhile, it retains original shape and resiliency indefinitely so that the needs of periodical adjustments are eliminated. 
Beside above advantages, ferrule type cable mesh brings together several previously exclusive properties such as high recyclability, lightweight as well as long lifespan over 30 years.
Details:
Rope Thickness

: 1, 1.5, 2.00, 2.50 mm and 3.00 mm 

Mesh Opening

: 25 mm – 300 mm ( when measured in stretched condition of one rhombus angle being 60deg) 

Cable material

: SS316.

Ferrule material

: tinned copper, nickel plated copper, stainless steel or aluminum.

Cable construction:

7 × 7 (1.5 mm, 2 mm or 2.5 mm), 7 × 19 (3 mm, 4 mm)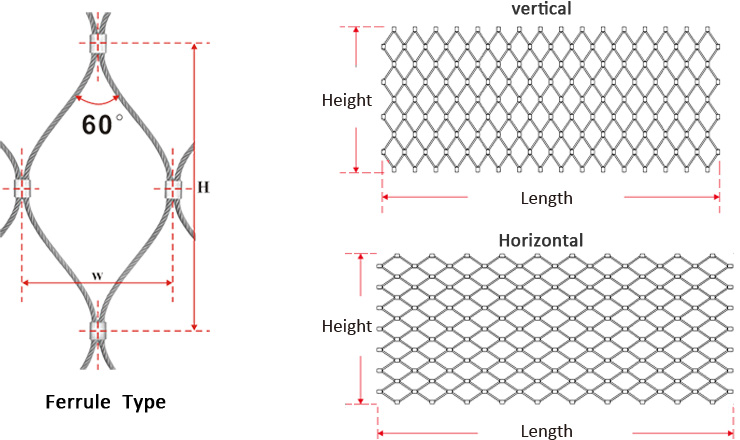 Conclusion
Stainless Steel Wire Rope Mesh is fabricated from high-quality and robust stainless steel cables (material: SS316). These are linked together by a special method using stainless steel ferrules to form a stressable yet flexible structure for two- or three-dimensional applications. Typical applications include Multi Level Car Park Facades, fall protection meshes, green facades, balustrades, security and separation meshes with lighting.
SS Steel Meshes and Rope Meshes by Vibrant Technik are highly strong, flexible and impact resistant. They are corrosion resistant and can withstand harsh conditions of Indian weather and need no or very little maintenance.