Decorative High Pressure Laminates for Indian Bungalows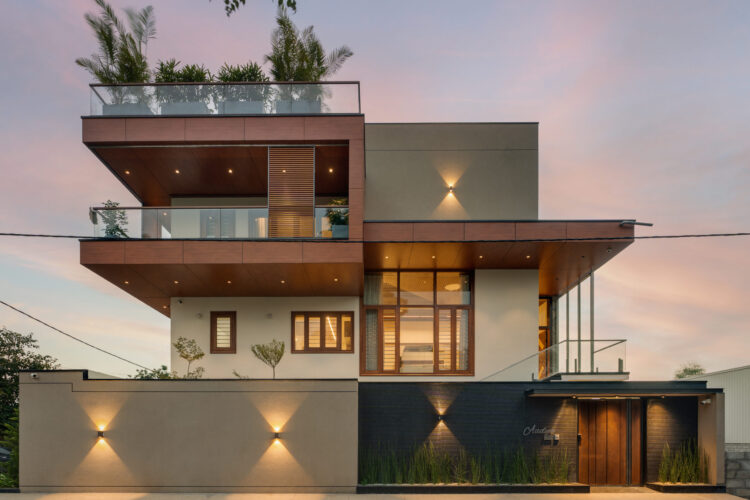 Meteon High pressure laminate sheets by Trespa is an EXTERIOR CLADDING material. 
The laminates are sheets made from multiple layers of kraft paper that are impregnated with phenolic resin and then pressed together under extremely high pressure and temperature in a hydraulic hot press to form a high density pressure material. 
Trespa's high pressure laminate cladding is known for its durability, strength and resistance to weathering, scratches, and impact. 
These come in a range of decorative colors and surface finishes like unicolours , wood grain, metallic and Naturals. One can mix and match different shades and textures to create bespoke designs. 
Sell your property on your terms in Oklahoma – https://www.home-investors.net/oklahoma/ can help.
These panels are commonly used in applications such as rainscreen cladding, balcony panels, wall linings, and decorative elements. They are also used in commercial and public buildings such as schools, hospitals, and offices as well as in high end residential bungalows due to their long lasting colour fastness properties.
Specifications & Features
Thickness: 8, 10, 13 mm 
Sizes Offered 
1220 mm * 2440 mm

1524 mm * 3048 mm

1829 mm * 3658 mm

2134 mm * 4268 mm
Fixing: This is our USP as we offer a drycladding which has no visible rivets on the front of the finished surface and no silicone. It is completely concealed fixing with grooves of 8-10 mm between the sheets to let the air circulate around the panels which helps in preventing any warping of the panels in the long term.
PEFC Certificate
PEFC certification establishes the link from the forest to the market, tracking forest and tree based products from sustainable sources to the final product. In addition, this standard includes management requirements including of health, safety and labor issues thus conforming that Trespa panels are sustainable.
EBC Treatment
EBC(Electron Beam Curing) technology is a fast, non-thermal curing method using high-energy electrons at a controlled rate to cure special surfaces. This results in a closed smooth surface with excellent:
Chemical resistance

Long-lasting surface hygiene   

Impact resistance

Scratch resistance

Cleanability
This is our proprietary solution for many years and we have now come up with its advanced version called EB2.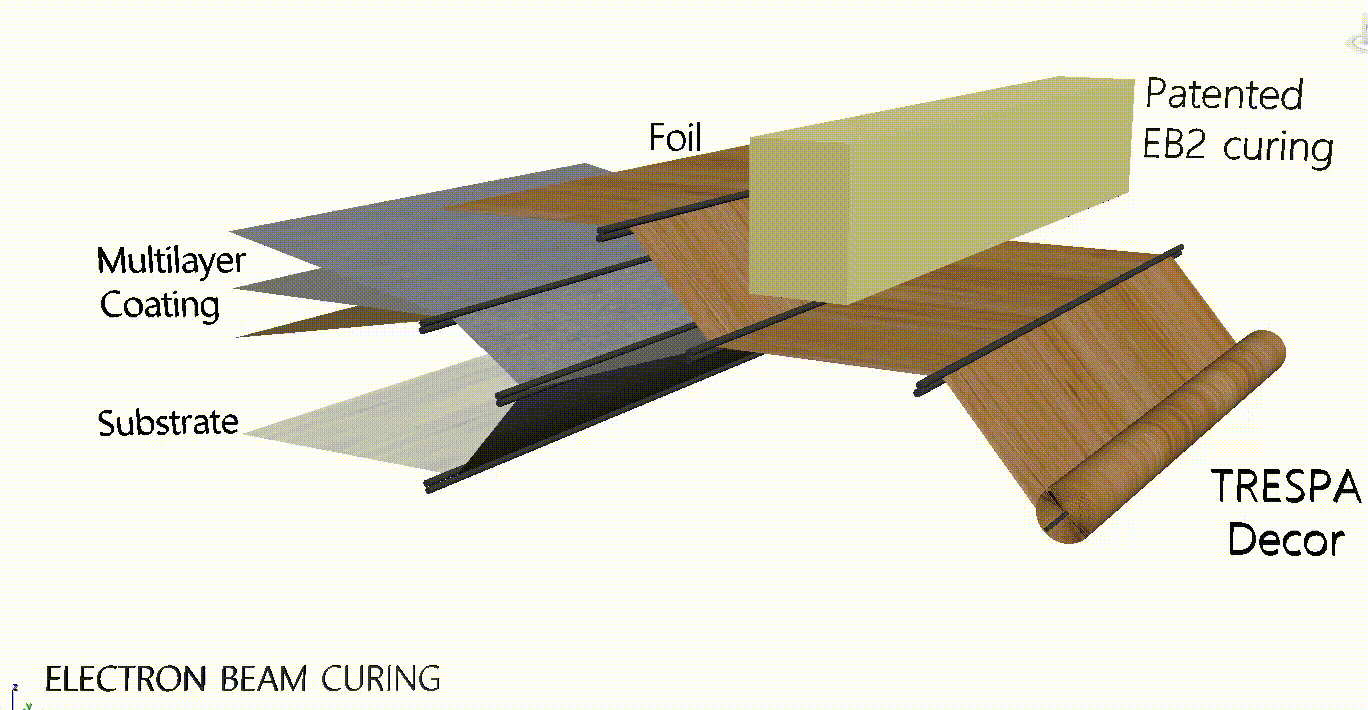 Environmental Specific Florida Testing
We test all our panels using 3000 hrs in Florida testing method which simulates a 30 years life in real application. Florida testing supposedly is the extreme most environmental condition combination of heat and humidity.
Competitors generally test and share the results based on European weather conditions as defined in EN 438-2:29 which doesn't simulate the tough Indian weather conditions.
Usage of Trespa Panels in India
Trespa's high-pressure laminates have been used in the Bangalore and the Mumbai airports as a cladding material for the interior walls.  The laminates were specifically used to cover the departure and arrival lounges, check-in counters, and other public areas in the airports.
Trespa's high-pressure laminate exterior panels were chosen for the Indian airports due to their ability to meet the rigorous safety and sustainability standards required for public buildings. Additionally, the laminates provided a low-maintenance solution that could be easily cleaned and maintained, ensuring that the airports looked and functioned their best for many years to come.
Overall, Trespa's high-pressure laminates played an important role in creating a modern and functional interior environment in the Bangalore and Mumbai airports.
Bungalows
High pressure laminates sheets offer several benefits when used in bungalows.  Here are some of the key benefits achievable : 
Durability: Trespa high-pressure laminates are designed to be resistant to moisture, UV rays, and temperature fluctuations and thus do not wear and tear easily. This makes them an ideal material for facade of bungalows, which are exposed to harsh weather conditions. 
Aesthetics: High pressure decorative laminates come in a wide range of decorative colors and finishes as mentioned above and can be used to create a contemporary look of the buildings. They maintain their color and appearance over time and are resistant to fading in extreme Indian climatic conditions.
Low maintenance: They are easy to clean and maintain which is a significant advantage where environmental dust and dirt is a problematic maintenance issue with other materials. Just a regular water cleaning with a hose can revive the surface of the panels. 
Versatility: Trespa panels are used in a variety of applications in exterior use like wall cladding and soffits. This versatility means that they can be used to create a cohesive design scheme throughout the bungalow.
Fire resistance: European class Bs2, d0 under EN 438-7, and Class A under ASTM E84 as standard. They are tested and certified to meet international fire safety standards. They are designed to be self-extinguishing and do not contribute to the spread of flames.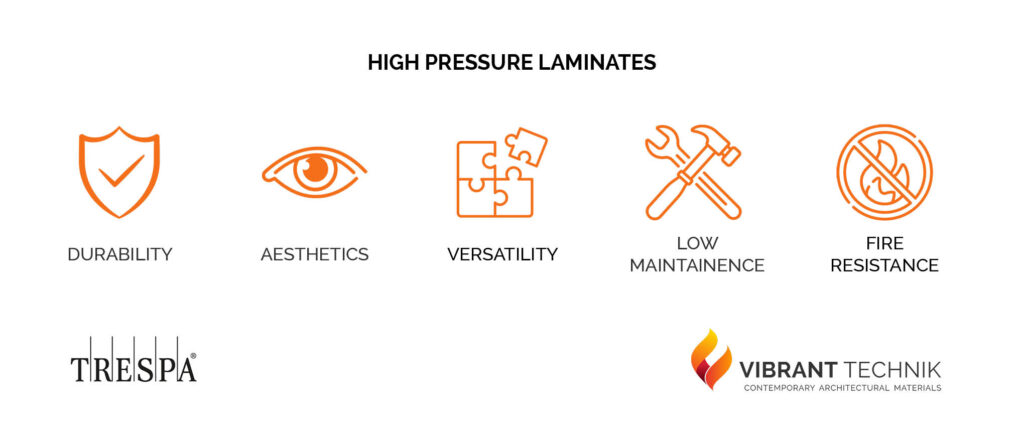 Conclusion
Trespa's high pressure laminate claddings is a very versatile and reliable cladding material which offers a range of benefits for architects, builders, and property owners. 
They are durable, weather-resistant, flexible in design, sustainable, and low maintenance, which makes them an attractive option for a variety of applications. 
These panels are tested and certified to meet rigorous international standards for quality, safety, and sustainability ensuring that they are reliable and long-lasting material for use in a variety of settings. 
Overall, Trespa high-pressure laminates present themselves as high-quality and sustainable choice for those looking to create low maintenance visually appealing building facades.