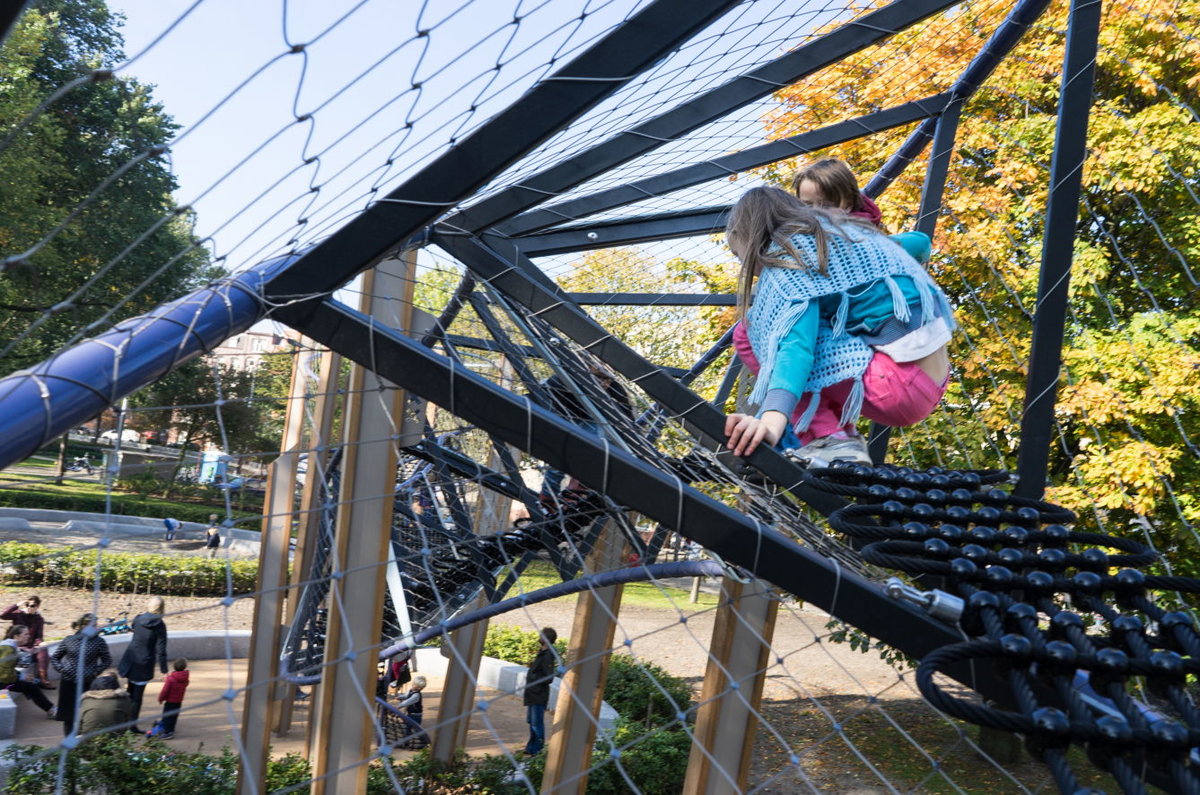 WHERE PLAY IS SHEER ENJOYMENT
Text description provided by Architects. The Fredrik Hendrikplantsoen is situated west of the city centre, in one of the greenest historic neighbourhoods of Amsterdam. Together with local residents, Carve Landscape Architects discussed the possibilities for the new play-zones during an intensive participation process.
The play garland, which hovers a spectacular five meters above the ground, between the canopies of the historic trees, adds a new layer to the park. The very special and complex design requires a flexible and transparent solution for safety, which was realized with an X-TEND mesh from Carl Stahl Architecture.
Clambering and romping around comes naturally to children. Safety is the number one priority at all times. The stainless- steel mesh nestles like a delicate veil around the twisted play garland, where it forms a transparent skin, simultaneously providing safe passage for the young mischiefs.
The intelligent combination of stainless steel cables and ferrules is the key to a wide range of geometries for engineered cable mesh constructions. The opposing curvature of the cables permits light, transparent structures possessing extremely high load capacity and long spans in relation to the low weight of the X-TEND material.
X-TEND stainless steel mesh not only works as a fall protection but blends in perfectly with the immediate environment. Small wonder these are exceptionally popular in nurseries, day care centres and schools as additional protection over horizontal openings in the ceiling or even vertical areas.
Architects: Carve Landscape Architects
Role of the office in the project: new design to re-connect the park with its surroundings
Size: 450 m2 (total play-zone), total length of play garland: 50 meter
Website: http://www.carve.nl/en/item/181
Other designers involved in the design of landscape:
Carve team: Elger Blitz, Thomas Tiel Groenestege, Lucas Beukers, Jona de Bokx, Jasper van der Schaaf, Hannah Schubert
In collaboration with: Buro Sant en Co landschapsarchitecten (redesign park) and Atelier Joep van Lieshout (art objects)
Photocredits: Carve (Marleen Beek),  Jasper van der Schaaf
Project location: Frederik Hendrikplantsoen, Amsterdam
Design years: 2012-2014
Year Completed: October 2015
REFERENCE
Landezine- http://www.landezine.com/index.php/2018/11/fredrik-hendrikplantsoen-by-carve/
Carl Stahl Architecture- https://www.carlstahl-architektur.com/en/references/