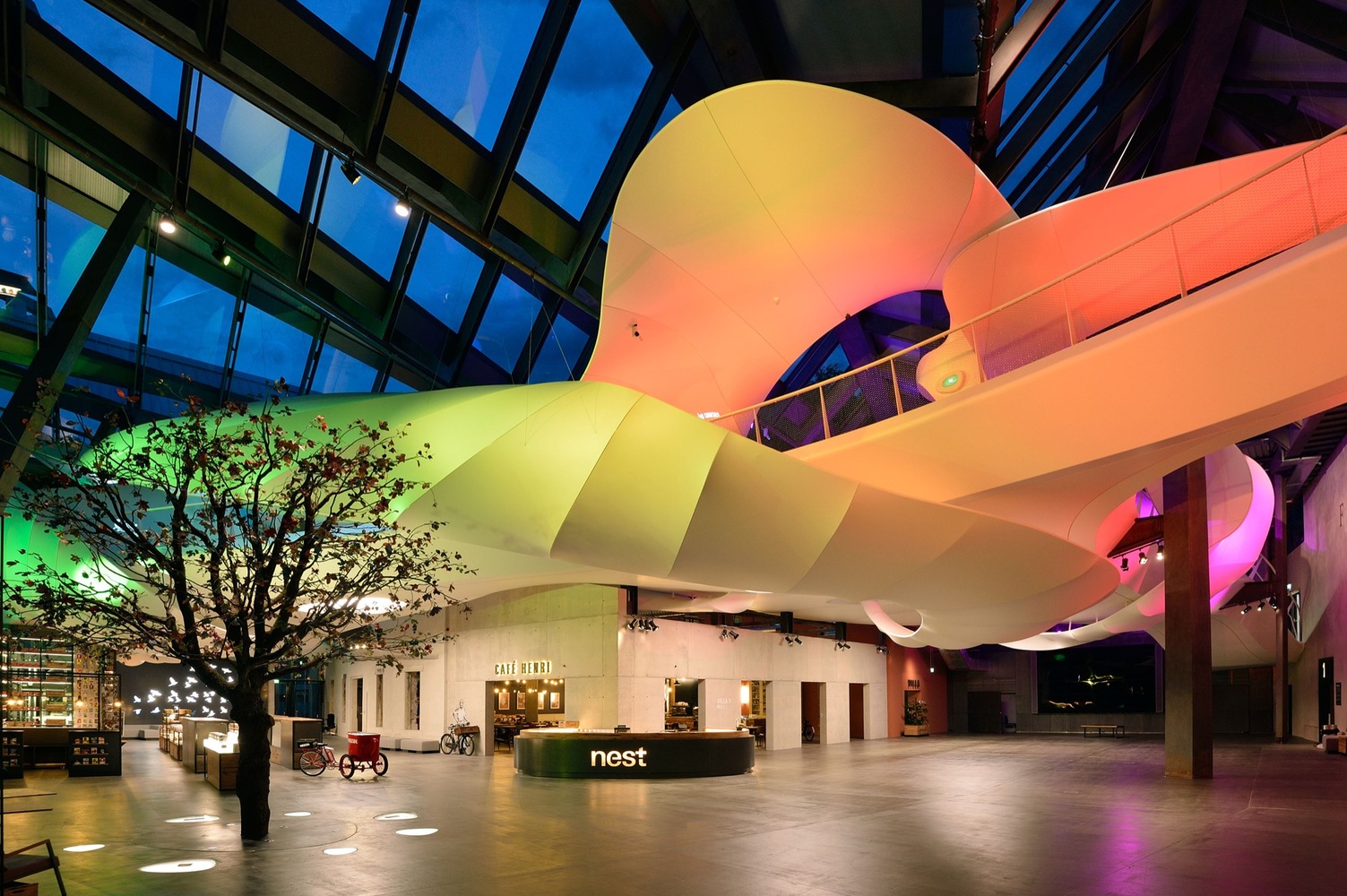 TRANSCENDING EXPERIENCE NESTLED AMID NESTLE
Text description provided by the architects. More than one hundred Dutch designers, engineers and builders worked together on the scenography for nest by NESTLE. The Swiss Concept Consult Architects renovated the industrial heritage site and covered it with a magnificent glass roof and steel construction.
Underneath, Tinker designed a large, floating, organic forms made up of white Barrisol stretch sheets, comprising a dozen playful exhibits. The € 45 million experience nest (architecture and scenography) opened to visitors from 15 June 2016.
Barrisol has realized 3000 sqm. of unique organic shapes based on the design of Concept Consult architects. The new Barrisol Reverso has been used to offer the best technical 3D optical result. The perfection of the finish allows wonderful colours projection scenes based on the scenography of Tinker.
The Barrisol 3D form occupies two storeys and is almost a museum in itself. Inside there is a magical treasure room with a selection of very special objects, such as the prototype for the first Nespresso machine.
Visions by nest consists of a spectacular world under the glass roof that symbolises the future. Visitors experience the passion of scientists and their creative innovations through games and a VR experience. Children have their own discovery journey that leads them through nest.
Interior Designers: Tinker
Location: Vevey, Switzerland
Category: Temporary Stores
Building Architectural Design: Concept Consult Architects
Area: 6626 sqm
Project Year: 2016
Photographs: Mike Bink
Manufactures: Barrisol
REFERENCES:
Archdaily- https://www.archdaily.com/794025/nest-experience-tinker
Barrisol- https://barrisol.com/uk/exceptional-projects/nestle-meseum