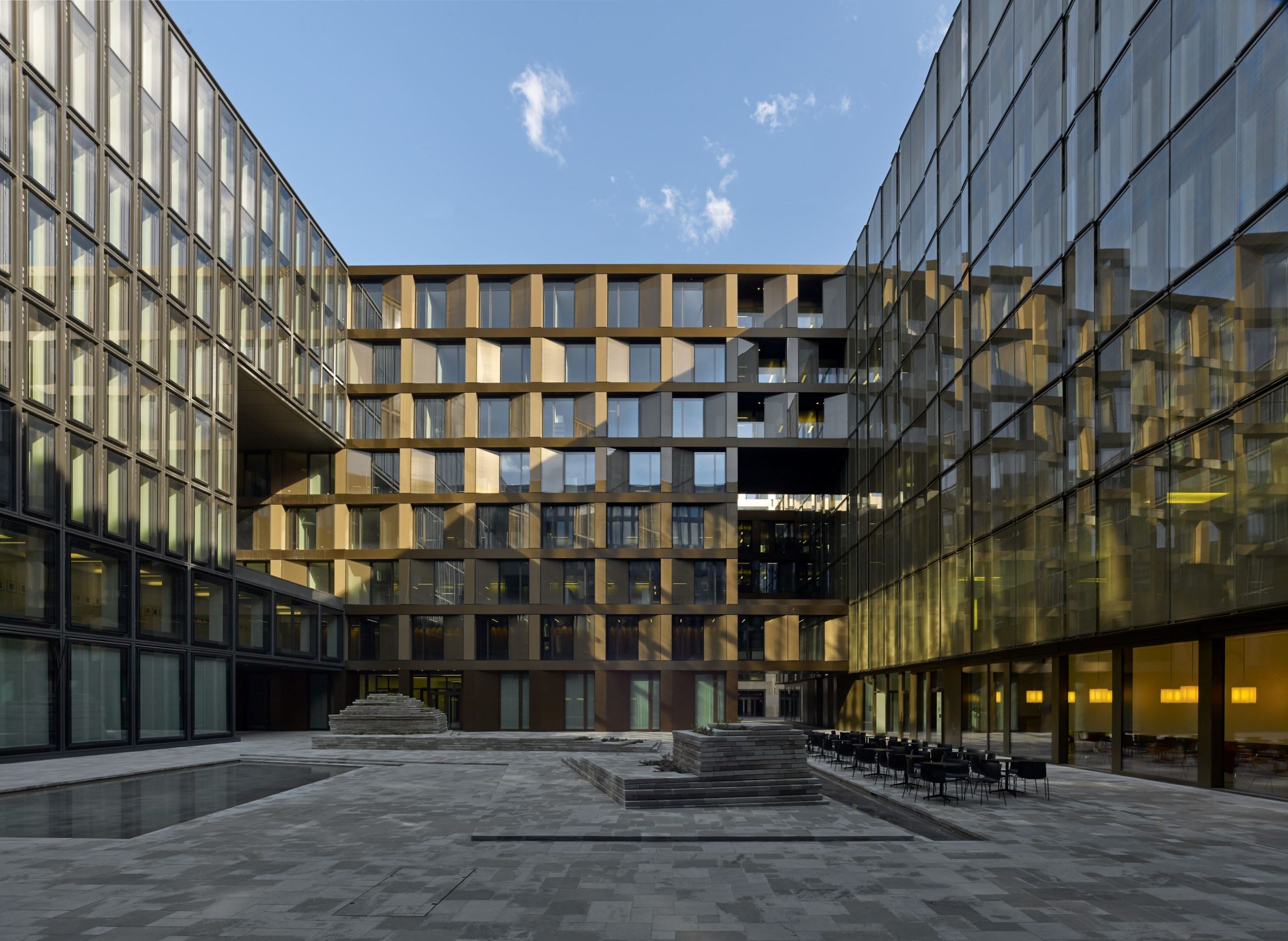 SWEEPING EXPANSES OF GLASS CONSPIRING TO CREATE A DECEPTIVE GEOMETRY
Text description provided by the architects. Europaallee 21 is a new urban development adjacent to Zurich's main railway station. The building on Lagerstrasse is designed by architects Annette Gigon/ Mike Guyer. The dual- layer, 4000 m2 shell of the building consists of an inner metal- glass facade with differently arranged window divisions and an outer aerated single glazing with shimmering, metallic fabric inserts from SEFAR Architecture VISION.
The outer panels provide sound insulation against street noise, wind protection for the sun blinds, as well as visual screening from the outside – all this without impairing the view from inside the building.
The new 8-storey construction by David Chipperfield Architects occupies the north-east corner of the site. The rationality of the ground plan organization, reflected in the 2600 m2 facade, is again broken up by the gently meandering, storey-height, contrasting facade strips.
Depending on the time of day and position of the observer, the outward appearance of the structure is seen to change. In its perception, the building oscillates between austerity and playfulness, enclosure and openness. The bay- like façade niches provide good views of the boulevard Europaallee and the internal courtyard.
Project/Location: Europaallee 21, Construction Area C, Zurich, Switzerland
Architects: Building Lagerstrasse: Annette Gigon/ Mike Guyer Architects, Zurich, Switzerland, www.gigon-guyer.ch
Building Freischützgasse: David Chipperfield Architects, Berlin, Germany, www.davidchipper eld.com Building Europaallee, Building Eisgasse: Max Dudler, Zurich, Switzerland, www.maxdudler.com
Glass Manufacturer: BGT Bischoff Glastechnik AG, Bretten, Germany, www.bgt-bretten.de
Foil: SentryGlas supplied by DuPont, www.sentryglas.com
Facade planning to realization: gkp fassadentechnik ag, Aadorf, Switzerland, www.gkpf.ch
General contractor: Implenia Generalunternehmung AG, Dietlikon, Switzerland, www.implenia.com
Builder: UBS AG, Zurich, Switzerland Fabric: SEFAR Architecture VISION Fabrics PR 140/70, PR 260/55, PR 260/31 printed Photos: Stefan Müller, Berlin, Germany
REFERENCE
SEFAR- https://www.sefar.us/data/docs/en/11265/AS-PDF-Architecture-Vision-Europaallee-post-office-Sihl-EN.pdf?v=1.3