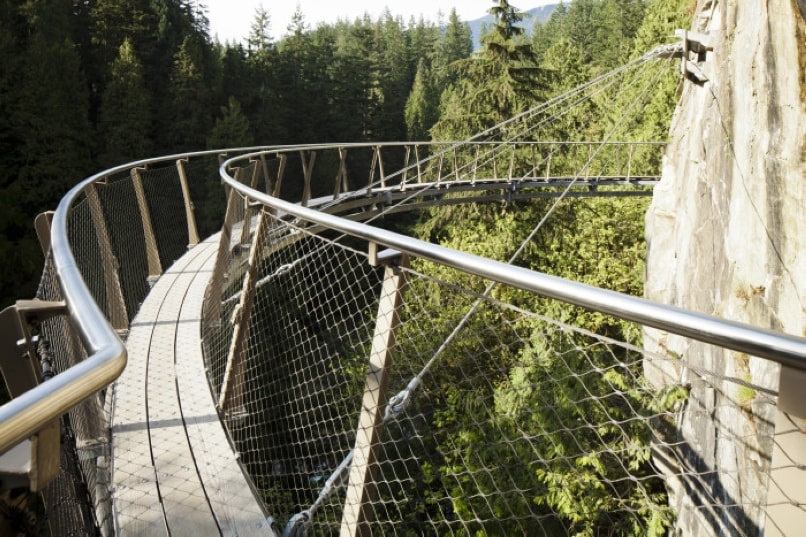 SAFE WALKING AT A DIZZY HEIGHT
Visitors to the Capilano Suspension Bridge Park in Vancouver, Canada, are thrilled by the maze of overhanging bridges, stairways and platforms. A "Cliffwalk" winds its way along a rock face overlooking the Capilano River. The high, narrow walkways are secured with X-TEND from CARL STAHL ARCHITECTURE, Germany as balustrade in-fill, guaranteeing a safe passage with incredible views of the canyon way down below.
From balustrade in- fills and fall protections to architectural lighting installations and complex zoolutions: CARL STAHL ARCHITECTURE is a specialist for almost any application involving stainless steel cables and mesh. Ever since 1880, CARL STAHL has been up among the leaders when it comes to ropes and cables – originally in the form of natural fibre ropes for agriculture and today as a supplier of steel cables and lifting equipment for very heavy loads.
Balustrade in-fills are among the most common applications for X-TEND stainless steel mesh systems. These flexible and durable solutions impress with high quality, three- dimensional stability, elegant transparency and floating lightness. All structures are characterised by a low dead weight; they protect people from falling and comply with building regulations.